Our office ready to take care of everyone in your family.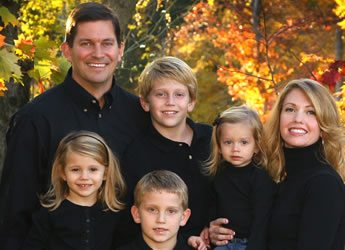 When it comes to your family, you do everything in your power to ensure that their health is taken care of. Regular visits to the doctor play a big part in establishing great, long-lasting health, and the exact same should be said of your dentist. Bi-annual check-ups and yearly x-rays will make sure that their oral health is always at its best. Like a doctor, you want to make sure you find the right dentist who can handle your family's needs. At Michael S. Spangler, DDS, PA, we offer the best in family dental care in the Winston-Salem, North Carolina area.
Our family dental care office offers a variety of oral health procedures that will ensure bright, healthy smiles for years to come:
Dental checkups
Tooth extraction
Crowns & bridges
Root canals
Cavity fillings
What makes our office stand out? With family dental care, our focus is on comfort. We know people are rarely relaxed when coming in for a dental appointment, which is why we take extra steps to ensure that your anxiety is reduced to a minimum. We take care of patients of all ages and in all dental situations.
We also offer both preventative and restorative services. If you're worried about time, our scheduling services make it easy to come in for appointments, working around work and school. If you're concerned with cost, we offer a range of payment options to fit any budget. Serving the Winston-Salem area for over 50 years, our office is known and trusted in the community. Call us today to schedule an appointment or to learn more about our practice.
---
At the office of Michael S. Spangler, DDS, PA, we offer family dental care services to residents of Winston-Salem, Clemmons, East Bend, Pfafftown, and Yadkinville, North Carolina.