If you have a tooth injury or decay, you can still have a beautiful smile with services like crowns & bridges.
Here at the dental office of Michael S. Spangler, DDS, PA, we want the residents of the Kernersville, North Carolina area to have beautiful smiles and more importantly, functional teeth. The link between oral hygiene and overall health has clearly been made. If you have a missing tooth or seriously decayed tooth, you need to resolve the issue quickly to reduce further problems. Open spaces in your mouth quickly lead to shifting of your remaining teeth, which can throw off your bite and cause other problems like bone loss in your jaw.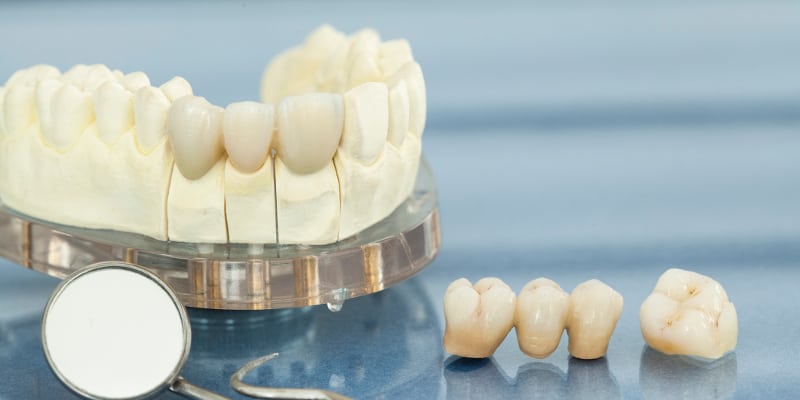 Crowns & bridges are both fixed prosthetic devices. That means that once we install a crown or bridge in your mouth, it stays there permanently. There are some differences between crowns & bridges:
Crowns: Crowns are used to cover or cap damaged teeth. A crown can strengthen the tooth and improve the appearance. Crowns are also used on dental implants to restore natural function. Porcelain or ceramic crowns can be matched to your other teeth, so they blend in.
Bridges: A bridge is used when you have one or more missing teeth. The bridge is cemented to natural teeth or implants on either side of the gap, keeping your teeth where they are and restoring function to your mouth.
Having spaces in your mouth can affect your speech, your ability to eat nutritious food and increase your risk of periodontal disease. Crowns & bridges can help restore the function and appearance of your teeth. If you are ready to reclaim your smile, give us a call to schedule a consultation today.
---
At the office of Michael S. Spangler, DDS, PA, we offer dental crowns & bridges to residents of Winston-Salem, Clemmons, East Bend, Walkertown, Kernersville, Pfafftown, and Yadkinville, North Carolina.