Dental crowns can protect and strengthen cracked or chipped teeth.
You have probably seen more dental crowns than you realize. Dental crowns that are made out of porcelain or ceramic can be perfectly tinted to match the rest of a person's teeth, making them almost impossible to notice. So, if you have a damaged or decayed tooth, come see us at the dental offices of Michael S. Spangler, DDS, PA to discuss the benefits of dental crowns. Not only can dental crowns strengthen and protect your existing tooth, they can also restore the look and function of your tooth.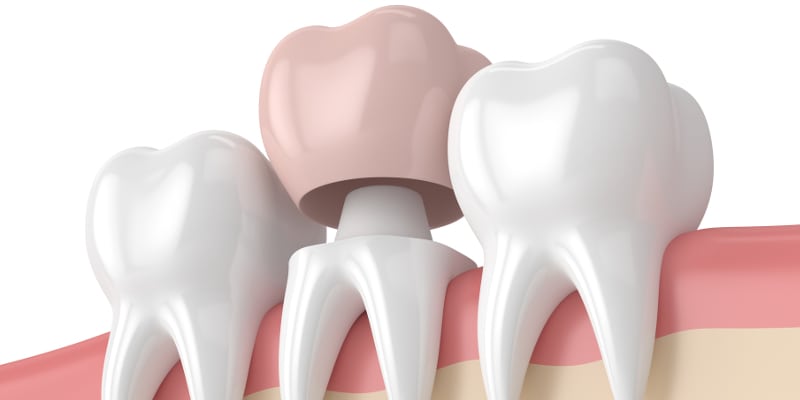 Dental crowns are also used on top of dental implants, giving a dental implant the look and function of a natural tooth. They can be used anywhere in your mouth, including front teeth and even molars. Sometimes, dental crowns that are capping or replacing molars are made out of metal alloy materials instead of porcelain or ceramic, because they are stronger and less likely to break or crack.
Once you have dental crowns in your mouth, continued oral hygiene is very important to protect your remaining teeth, your new crowns and your overall health. Regular brushing and flossing are key, as well as regular checkups and cleanings at your dentist. If you have existing dental crowns or need new dental crowns and you live in the area near Winston-Salem, North Carolina, we would be happy to serve your dental needs. We pride ourselves in providing patient-centered care and providing each patient the attention and comfort they deserve. We have convenient hours and accept a range of payment types, including Care Credit. For more information or to schedule a consultation, give us a call today.
---
At the office of Michael S. Spangler, DDS, PA, we offer dental crowns to residents of Winston-Salem, Clemmons, East Bend, Walkertown, Kernersville, Pfafftown, and Yadkinville, North Carolina.